If you are considering connecting your drone camera to the laptop, you are most welcome to this post because I will guide you on how to connect drone camera to laptop. Drone cameras are very popular these days, and people use them for different purposes. It could include filming, making documentaries, and doing more. And when you have made sure that you get the connectivity of a drone with the laptop you have.
So, be nice and easy while reading this comprehensive information. Because if you do that, you will learn how to connect drone camera to laptop. Let's get started!
Also Read: Chromebook Camera App Missing | What To Do?
Can You Connect Your Drone Camera To The Laptop?
Simply stating, connecting your drone camera to the laptop is totally possible when you know how to do that.
These days, drones are built to work from wide ranges over the wireless connectivity so that whatever you are filming, you may see it on the screen.
There are no hard and fast rules you need to follow. Because making such connectivity is easier than you have imagined.
So, keep reading and let me figure it out for you so that you can have the easiest connection of letting your drone work with the laptop.
How Do You Connect The Drone Camera To The Laptop?
Connecting the drone camera with the laptop is not a big deal when you know all the does and don'ts to do that.
In this regard, I have made it simpler and provided you with some easiest steps to follow. Therefore, please follow the steps below and make sure that things must work in your favor.
Connect The Drone Camera To The Laptop By Using The Clean Flight:
Whenever you are to connect your drone camera to the laptop, using the CleanFlight option would be fruitful because it gives you easy accessibility and streaming through the drone over your laptop screen. For this, follow the steps described below.
First things first, take the USB cable and connect your mini drone to the laptop by using this cable. Once connected, go for the next step.
Next, open the CleanFlight Studio at your desktop window and find the icon entitled Connect. Or you can Install The CleanFlight Chrome App to make things easier and simpler for you.
When you open the app, your app will automatically detect the IP address of your drone, and you can see that the drone will start connecting to the laptop. You can have a preview just in front of you of everything related to your drone. Even if you move it in a certain direction, you will be able to see it on your front screen.
In this way, you would be able to connect your mini drone with your laptop, and there will be nothing to worry about. Just have these settings and the desired app, and you are good to go.
Connect Or Fly Your DJI Phantom Drone With The Laptop:
Suppose you have got the DJI Phantom drone in your home and want to make decent connectivity using this masterpiece to work on your laptop. In that case, you are a few steps away from achieving that thing.
However, before you start making this needed connectivity, it is better to understand some important cautions. These cautions are given as follows:
Make sure that you are running the latest version of Windows on your PC.
Your laptop must have strong internet connectivity.
You must try this method very carefully and always remember that the best way to fly this type of drone is only flying it using the Mobile Or Tablet. Therefore, these things must be in your head before you jump into this process.
Download The Require Software:
First, you need to download the Bluestack Software using the internet and make sure that it must be running flawlessly without any problems.
Run The Bluestack and log in with your Google account. You can also create a new one in this regard.
Look For The DJI Go App In Play Store:
When you have downloaded the Bluestack and settings have been made, you will see the Google Play Store app. Open it and look for the DJI Go app. You will have it on the front screen with the below-given title.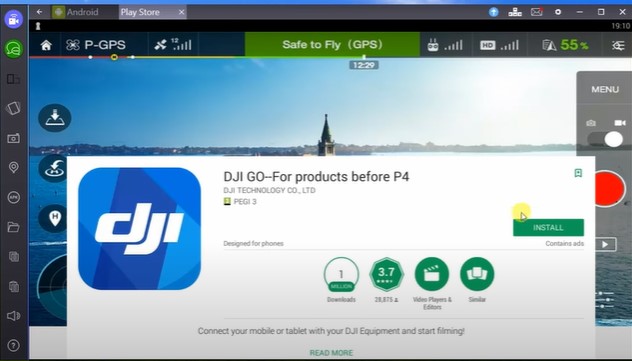 Install the app and make sure that it works flawlessly without any complications.
Open The App And Make Sure It Is Running:
Once you have installed the app, it is time for you to open it and make sure that it starts working.
After accepting all the requirements given in the agreement, you will have a new window in which you must specify the particular type of drone you are using.
When you select that, the drone will be connected with the app using the Wi-Fi service, and you will be on track making sure things must work in your favor.
So, this is all you will have to do in this regard if you are trying to connect your DJI drone with the laptop. These drones work wirelessly and provide you with all the essentials to film the content, make videos and do more.
Also Read: What Is School Chromebook Screen Size? | Let's Find Out
Final Thoughts:
In the end, I hope that it's been a good journey as you have learned how to connect drone camera to laptop through some easy steps. Yes, things get simple when you try to do them precisely. Moreover, you can use this guide for connecting any drone with your laptop or mac. Plus, this connectivity will work the way it should, and you will end up living or having the drone connected.
Moreover, if you get distracted or have other queries in your mind, don't forget to share them with others. Thanks for reading and spending time. Have a pretty good day!
Read These Articles..... How To Change Front Facing Camera On Laptop? | Let's Figure It Out! Can I Connect An Ip Camera Directly To My Computer? | Let's Find Out! How To Rotate Screen In Sims 4 On Laptop? | Answered Fully! How To Change Default Camera On Mac? | Follow Easy Guide! How To Use Monitor Camera Instead Of Laptop? | Solved For Good!
Did You find This Post Helpful? Share with others