If your current operating system is windows 10 and you want to apply some customization over it, especially regarding Google Chrome, then you are at the right place. Today, I will teach you how to make google chrome transparent windows 10 and answer your query that is I know that you are looking for the same information.
However, opening too many pages and links might not have figured out your problem. But I am here to solve it for good and provide you with the solution you deserve.
Therefore, you would be able to put some random effects in your google chrome or ultimately make it transparent.
But for that, I will require your full attention till the end of this post. Because if you keep reading, we will end up on a better conclusion.
Let's start discussing how to make google chrome transparent Windows 10 without wasting time.
Also Learn: Why Does Ccleaner Skip Google Chrome? | Let's Find Out!
How Do You Make Google Chrome Transparent On Windows 10?
Without falling into complications, I would rather go for the straightforward procedure that could lead you towards doing stuff like this.
It is no big deal because you are already a master at trying tutorials like this. You will be able to figure it out completely.
Therefore, the primary thing is that you must be on windows 10 and follow what I will tell you in the next portion of this article.
Because only through this would you achieve what you are up to today.
Considering this, here are some most common ways you can try to transparent Google Chrome on your Windows 10 computer or laptop. Please, take a look.
Transparent Google Chrome With Google Transparent Themes:
You might not have an idea, but there are themes in the google chrome theme store that could make your chrome browser look transparent.
Obviously, you won't have the overall application transparency that could also allow you to see the window behind the chrome browser.
But still, you can use these themes to make your chrome look transparent. However, the question arises what would be the themes you can use for making that Chrome Window Transparent?
Well, actually I have chosen some best ones for you which you can use on a daily basis without any problems. These are listed as follows.
Using The Glass2K Software To Make Your Google Chrome Transparent On Windows 10:
In case you get to know that the themes don't give you the right transparency you would be looking for, you can always try some software.
These are pre-defined for doing things like these, and you can have them for making your google chrome transparent. In this case, I have done a thorough research and found the best software for you that you can use to give your Google Chrome the transparency it deserves.
Moreover, it doesn't matter if it is googled chrome or any other app you are currently working on. You can have this software working on all of them and making their windows transparent.
In this way, you will be able to see through the app. And look at the window behind your current window if you are multitasking on your Chromebook.
So, let's describe to you the procedure you may follow for downloading, installing, and using the Glass2K software on your laptop and make any application screen transparent. You might not believe it, but it is simple and quick to do, even if you are a newbie.
First of all, open the Download Link for the software, and it will automatically start downloading on your PC.
Once you have started downloading it, you will find the app inside your laptop or computer within a short while. Therefore, you can click on the file and install it accordingly.
Once the software is installed, just give a right-click on any window opened in front of you, and you will have a panel. Or a full menu for setting the transparency at your desired level. It is given as follows.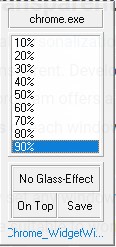 Here, you can set the desired level of transparency. You will find that your current application will start giving you a view of the window available behind it. So, basically, it is an easier and faster way of making your google chrome windows transparent in windows 10.
Other Softwares You Can Try:
Besides the Glass2K Software, you can try some other ones. Still, they offer the same functionality for giving you the transparency you are looking for. This list includes the following.
So, these could be the software that can help you achieve the goal you are currently behind for having the transparent window of everything you open or work on over your computer.
Also Read: Chromebook Recovery Utility Alternative | What To Know?
Final Thoughts:
Thankfully, I can be satisfied now that I have provided you with enough solutions that you can try for a transparent effect on your google chrome window. And I hope you have learned deeply how to make google chrome transparent windows 10.
Well, if you do, it is a significant achievement you have made. However, if you still have doubts or problems doing this, you can use the comment box to reach out to me. And let me know your queries because I am here to solve them.
Hence, this was all for today. I will come up with a new update and the latest solution on a random query very soon.
So, I guess to see you there. Until then, take great care of yourself and have a good day!
Read These Articles..... How To Test Microphone On Chromebook? | Follow A Complete Guide Where Is The Microphone On An Acer Chromebook? | Let's Find Out! How To Capture Google Chrome On OBS?-Let's Capture Google Chrome Dell Chromebook 11 Hard Drive Location- Where To Find It? Why Does Ccleaner Skip Google Chrome? | Let's Find Out
Did You find This Post Helpful? Share with others