All of a sudden, we ran into a problem as the original charger of our laptop stopped working. At that moment of time, we try to look for alternative ways to learn how we can charge our laptop that doesn't have a charger. In this tutorial, I will explain how to charge laptop with phone charger with some easy steps if you have lost your laptop charger, don't have one, has gone expired, or any is facing any other problem.
Read More: MacBook Pro Screen Backlight Not Working | What To Do?
Can You Charge Your Laptop With A Phone Charger?
Charging a laptop with a charging adapter is only possible when your laptop supports that type of charging.
These days, if you have the latest laptop from Hp, Dell, Lenovo, or even MacBook like MacBook Air M1 2020 model with a USB-Type C Port, you can use your ordinary Type C mobile phone charger to give your machine the current it needs to work and be on the go.
Therefore, there is a lot of possibility of charging a laptop with the phone charger if you know how you can do it!
How Do You Charge Your Laptop With A Phone Charger?
Just in case you've got a laptop supporting type-c charging and a type-c charger for your mobile phone, you are good to go for powering the laptop with that charger. In short,
You will compare the amperage current provided by the mobile phone charger with the current your laptop requires to give battery fully. Now, insert the USB-Type-C cable jack into the Type-C port of your laptop and plug in the charger in a wall outlet. Your laptop will start charging if you have made the right connectivity.
Therefore, charging a laptop with a mobile charger is just a plug-and-play game.
However, your efforts will be required to confirm the right voltages provided by the laptop charger and taken by the laptop itself.
Step By Step Process To Charge A Laptop With Phone Charger:
In the below steps, I'll show you how you can charge your laptop with a phone charger. If you meet the possibility, it's going to be easier than you might have thought.
I have my own Dell XPS 13 9310 laptop that supports mobile charging.
So, suppose I am in a hurry to my office and forget my laptop's charger at home. In that case, I can charge the laptop using my mobile charger, which is always in my laptop backpack.
Step 1: Confirm The Charging Port Of Your Laptop:
In the first step, you must ensure what type of charging port is available on your laptop.
Those traditional laptops might not be able to provide you with this mobile charging facility.
But these days, laptops are more sleek and smart, offering the easiest means of performance and comparatively easiest versatilities.
In that case, if you have a brand new laptop, like a MacBook Air or Asus ZenBook. Or these could be some recent models from HP and Dell supporting mobile phone charging; you are good to go for that!
Pro Tip: There is no way to charge a laptop through a USB port. Because no laptop supports this charging as the battery has nothing to do with sucking current and getting charged through its main charging terminal.
Step 2: Compare The Amperage Current Your Laptop Takes:
Now, the next thing you need to do is find the ability to determine whether your mobile charger has the capacity and ability to charge your laptop.
For that, you need to find out the average amperage current your laptop takes and the mobile charger providing it.
Sometimes, you won't be able to power a laptop with a mobile phone charger even if it supports it because of the lack of the current that the charger is providing.
For instance, if you have a laptop with a charger that delivers a 30 amp current to charge it, your mobile charger should also be standing nearby. Otherwise, you won't be able to power a computer with another charger.
So, once this is confirmed, let's move on to the next step!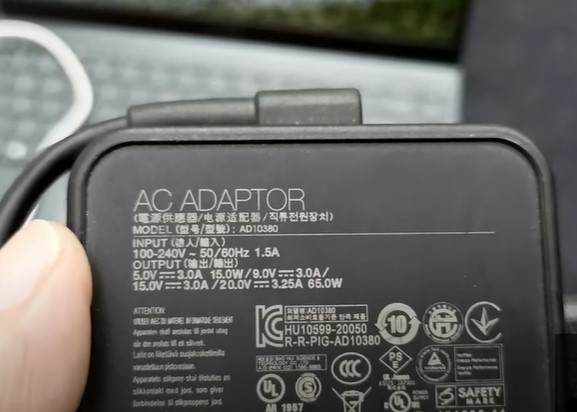 Step 3: Connect The Mobile Phone Charger With The Laptop:
Now, it is finally time that you should connect your laptop to the mobile phone charger.
Just plug the charger cable into your laptop's dedicated port, which is usually a Type-C port, and put the other end of the charger into an extension or a power supply.
You will see that your laptop will start charging with the help of that mobile phone charger.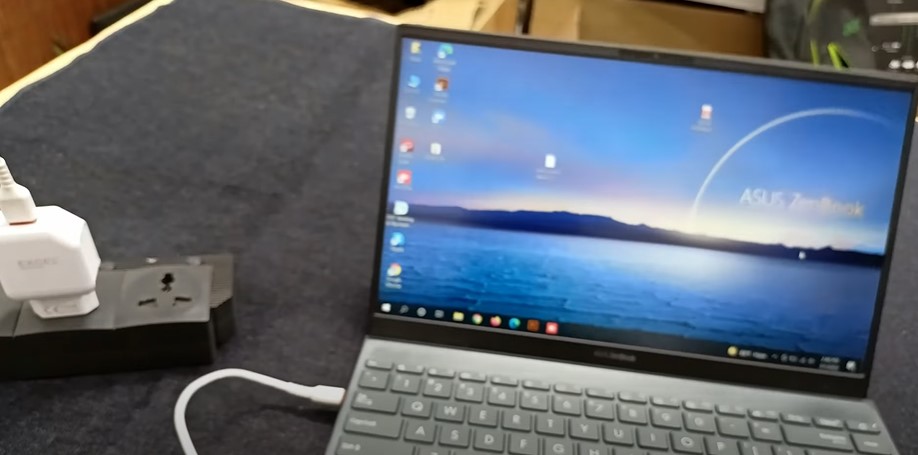 However, this charging might not be as speedy as your laptop's original charger provides.
But still, it will give enough electricity to your laptop to charge in a couple of hours.
You might receive a notification like the one represented above stating that if you want speedy charging, consider using the real charger of the laptop. Or original!
Is It Safe Charging A Laptop With Mobile Phone Charger?
Yes, it is safe to charge a laptop with a mobile charger until and unless the charger provides enough voltages required to charge your laptop.
And if it isn't, you might be missing something very important. This might even cause harm to your battery.
Therefore, it is always recommended to use the laptop's original charger no matter what type of circumstances you are in!
Read More: How To Add More Storage To MacBook Air? | 4 Easy Methods!
The Bottom Line:
Conclusively, you can charge a laptop with mobile phone charger if you are good at comparing things with their relevant power and ability. Besides, you must be very careful while doing something like this as it must not harm your asset. Instead, always consider having the original charger of your laptop. So, I hope that you have learned how to charge laptop with phone charger if you have made up to this point.
Your queries and suggestions are welcome. Have a good day!
Read These Articles.....

How To Add More Storage To MacBook Air? | 4 Easy Methods!
MacBook Pro Screen Backlight Not Working | What To Do?
Why Does My Dell Laptop Battery Drain So Fast? | Top 7 Solutions!
MacBook Air HDMI To TV Not Working | What To Do?
Can I Fix Mac Black Screen With Chime? | Let's Find Out
Did You Find This Post Helpful? Share with others